Do you Swap-Bot?  No, that isn't some sort of robot comic…it's a super-fun swap site that brings together crafters (and non-crafters) from all over to participate in item swaps through the good old fashioned mail.  This description from the site sums it up pretty well: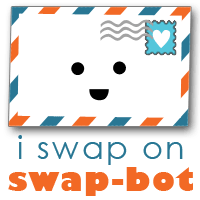 What is Swap-bot?
Do you like sending and receiving snail mail? Do you like writing letters, making crafts, or putting together fun packages? You should try swapping! Swap-bot is a online service that organizes group swaps and a community of creative individuals. Swap-bot takes the hassle out of participating in group swaps by organizing all of the participant information and doing all of the partner assignments. On Swap-bot, you can host swaps, join swaps, and chat with other swappers from all over the world. Give it a try!
Click here to read more about the Swap-Bot
I originally happened upon Swap-Bot during the Weddingbee Valentine Swap in February (click here to see my post on that swap).   Once I had completed the Valentine exchange and saw how easily  I was intrigued about this swapping community and how it worked.  My problem is I enjoy making things but often don't have a reason to do so…and swapping might give me an outlet to experiment with new techniques and methods!   After a couple more simple swaps (postcards and handmade envelopes) I was hooked.
Through Swap-Bot I've been able to swap different things with people all over the US, and a few other countries as well.  While I'm sure every group has it's problem children, I have yet to encounter a less than wonderful person on Swap-Bot.  I've found a group of people that love crafting as much as I do, and go out of their way to cheer a fellow swapper when they are down.  The other fun thing for me is the great variety and range of crafters involved.  In one swap I might receive an item from someone who is just learning to sew and my next swap might be an old pro.  Each swap is hosted by another member and comes with a set of rules/suggestions to follow for that particular swap.  One example might be to only use recycled materials, or only spend $1…all things that make it a bit of a challenge to master!  I've swapped aprons, thrift store finds, postcards, craft stash items, stickers, handmade envelopes, embellished tote bags, and all sorts of other things.  Sometimes I might not necessarily be able to use what I receive (and it's ok to re-gift later) and other times I LOVE them…and that's all part of the fun.
Check out a few of the fun items I've either sent or received through Swap-Bot:
These are a few photos of a book of photos put together as part of a photography scavenger hunt I received from a wonderful new blog friend in France!
Would you have guessed the cover collage was a single shot of glass beads?  Pretty fun huh?
And here are a few shots of handmade envelopes I've sent to people in Florida and England:
Cons:  Can be addictive & if you aren't careful with the swaps you choose could add up to more $$ than you think
Pros:  Too many to list!! 🙂
I love swapping and I think you might as well!  Do you Swap?  If so share the sites you use and what you think?  And if you don't check out Swap-Bot and see if it's for you.
Hope to swap ya soon!
**Note** I do not work for nor do I receive any support or benefit from my recommendation of any products, websites, or corporations.  These are purely my options based on my experiences with these products, websites, and corporations.